Case study
Behind the Curtains: Reinventing the Digital Persona of Outfit7 and Talking Tom & Friends
Client
Platform
Outfit7
Online Ecosystem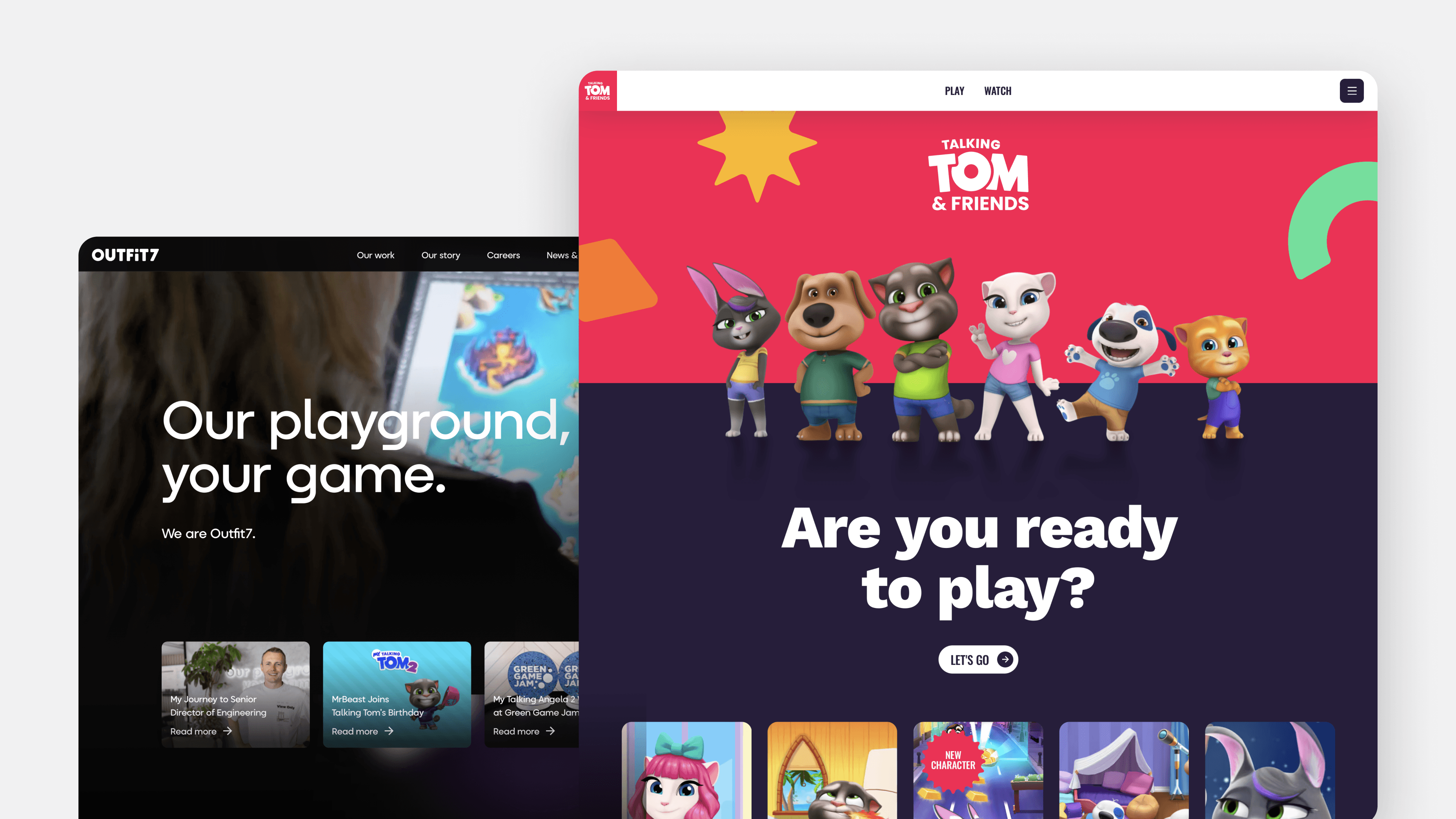 Outfit7 is more than the creator of Talking Tom and Friends; it's a powerhouse of innovation in global entertainment, mastering the art of interactive fun that resonates with a worldwide audience.
The challenge
The real challenge was to step Outfit7 out from Talking Tom's spotlight. We needed to redefine Outfit7 as an autonomous entertainment giant, showcasing its portfolio of IPs, and making it a magnet for top talent, business opportunities, and partnerships while allowing Talking Tom to inhabit its own playful corner of the web.
The plan
To achieve this, we devised a strategic dual-web approach. Our plan was not just about differentiation, but about creating a clear, navigable pathway for distinct user groups – from potential employees and business partners to avid fans of the franchises.
Result and impact
The outcome was a dual-website success story. Outfit7 now proudly stands on its own digital stage, with a clear message of innovation and opportunity, reaching out to professional collaborators and new talent. Meanwhile, Talking Tom and Friends enjoy their own dedicated space to connect with fans, free from the corporate context.
21+
billion game downloads. Imagine the number of website visitors.
How did we do it? 16 months of collaboration and more than 50 people involved.
Our collaboration with Outfit7 began with a pivotal research phase, tailored to lay a robust foundation for their web-based brand repositioning. We delved into their business landscape and dissected the existing digital persona, looking to carve out a distinct space for Outfit7 that both complemented and stood apart from the Talking Tom saga.
A thorough market scan evaluated the competitive scene, allowing us to pinpoint areas where Outfit7 could shine. We scrutinized their current online interface, focusing on content, structure, and user interaction to identify potential upgrades aligned with cutting-edge UX practices and UI trends.
As we synthesized this wealth of data, we pieced together a detailed project roadmap that encapsulated Outfit7's strategic goals. This plan was more than a mere procedural guide; it was a declaration of our tailored approach to elevate Outfit7's online presence.
This investigative journey culminated in an in-depth presentation to Outfit7's stakeholders, which not only affirmed our role as their chosen digital architects but also set the tone for a partnership that would redefine their online identity. It marked the beginning of a concerted effort to spotlight Outfit7 as a multifaceted entertainment powerhouse, adept at captivating audiences worldwide.
Services performed
Project resource planning
Timeline and milestone definition
Starting with intensive workshops, our team meticulously explored the dual facets of Outfit7's brand: the corporate presence and the beloved Talking Tom and Friends IPs. We hosted key players from each domain, engaging with the brains behind the business and the storytellers of the virtual sagas. These experts brought to the table a deep well of insights about their respective user communities.
Structured in three segments with strategic week-long breaks, the workshops were designed to yield maximum productivity. Each pause served as a critical thinking interval, empowering participants to reflect, gather pivotal information, and fulfill their roles with acumen.
The workshops evolved into a treasure trove of information, creating a shared pool of knowledge invaluable to all parties. Through this process, we didn't just listen; we heard the unspoken needs, the nuanced pain points, and the silent hopes of users.
Culminating in a comprehensive presentation, we translated these insights into tangible user personas, each with distinct challenges and aspirations. Armed with this knowledge, we sketched the initial blueprint of the project, crafting a content strategy that addressed pain points with precision and nurtured the user's journey with intuitive touchpoints. Our project concept didn't just propose solutions; it anticipated the evolution of user needs, setting the groundwork for a dynamic, user-centered digital presence for Outfit7.
Services performed
Stakeholder workshops facilitation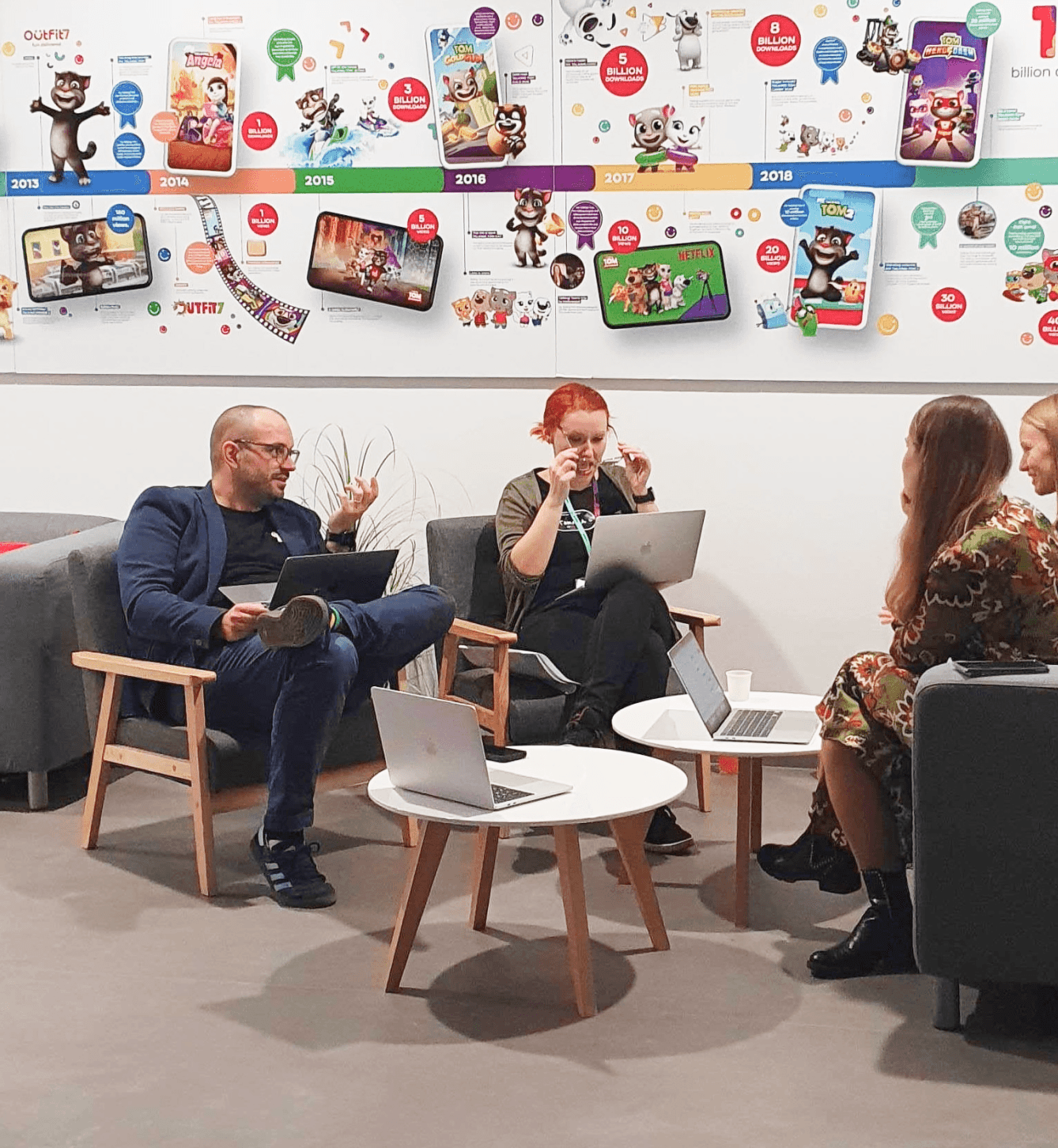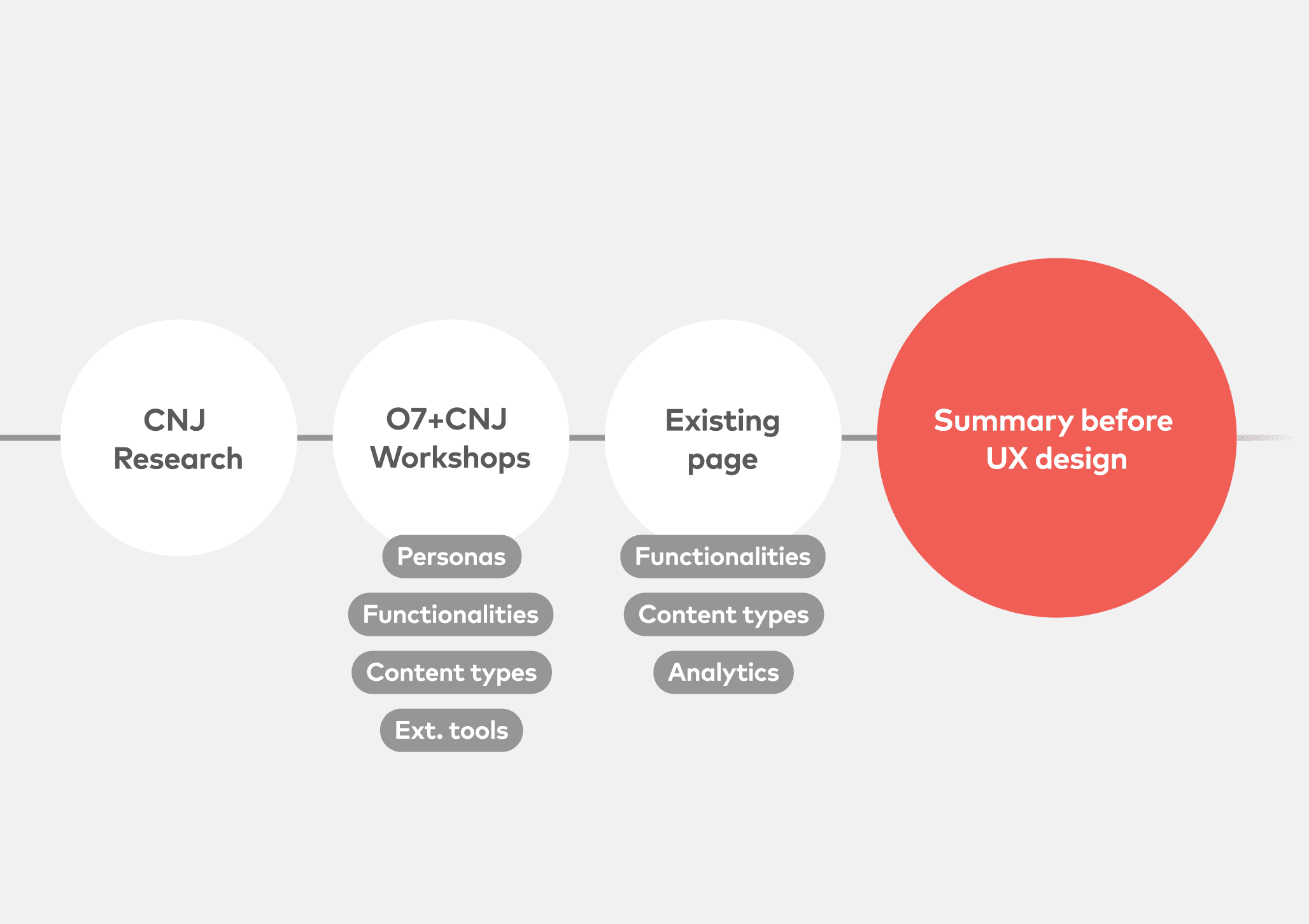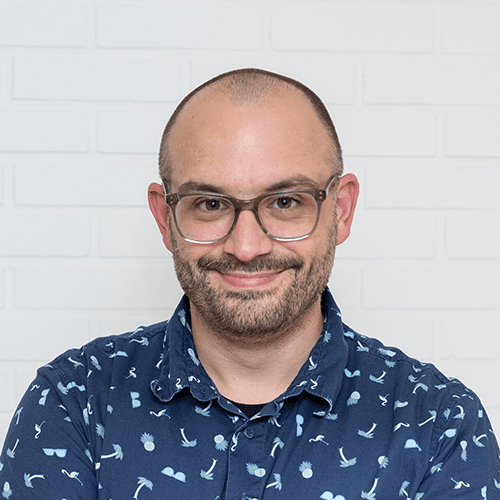 Jure Kožuh
Head of UX, CNJ
Partners, employees, media, gamers, children, their parents … One project, two interconnected brands, infinite possibilities. Uncover, sift through, and embrace your user's needs - that's when a system appears and blocks start to fall in place.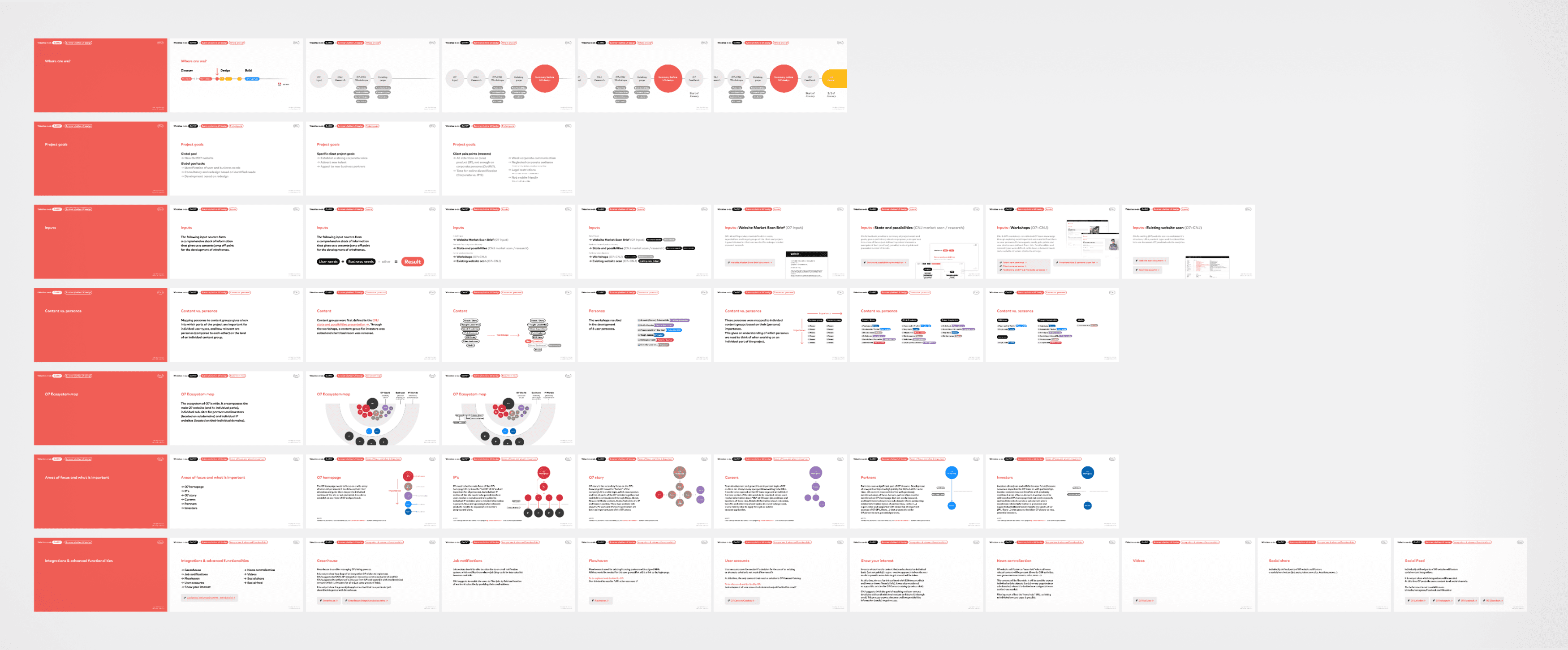 In the UX Design phase, we embarked on the meticulous task of wireframing, laying the digital skeletons for both the corporate and Talking Tom and Friends websites. We crafted and refined the top-level landing pages, ensuring they aligned seamlessly with each content pillar's intent. These iterations were pivotal, carving out the narrative and functional path users would traverse.
As the structure of the top-level landings solidified, we delved deeper, weaving the intricate web of wireframes into a cohesive blueprint for the dual websites. The corporate site was strategized with a clear hierarchy: prioritizing talent acquisition, company culture, and social responsibility, before cascading into product showcases and partnership opportunities. This design facilitated a straightforward pathway for users, channeling them effortlessly to the Talking Tom and Friends site when desired.
The Talking Tom and Friends website was meticulously designed to enchant and engage, with a vibrant emphasis on the characters' storylines, media content, games, and merchandise. Children's safety online was paramount; we were vigilant in our design to ensure a secure and accessible experience, complying with COPPA and GDPR regulations.
Throughout this phase, the design was anything but static. Our iterative process was enriched by active dialogue with Outfit7's team and bolstered by user testing conducted in collaboration with their UX experts. This not only refined our design but ensured it was sculpted by real-world user feedback, ironing out any user experience creases before moving to the final design stages.
Services performed
Usability feedback analysis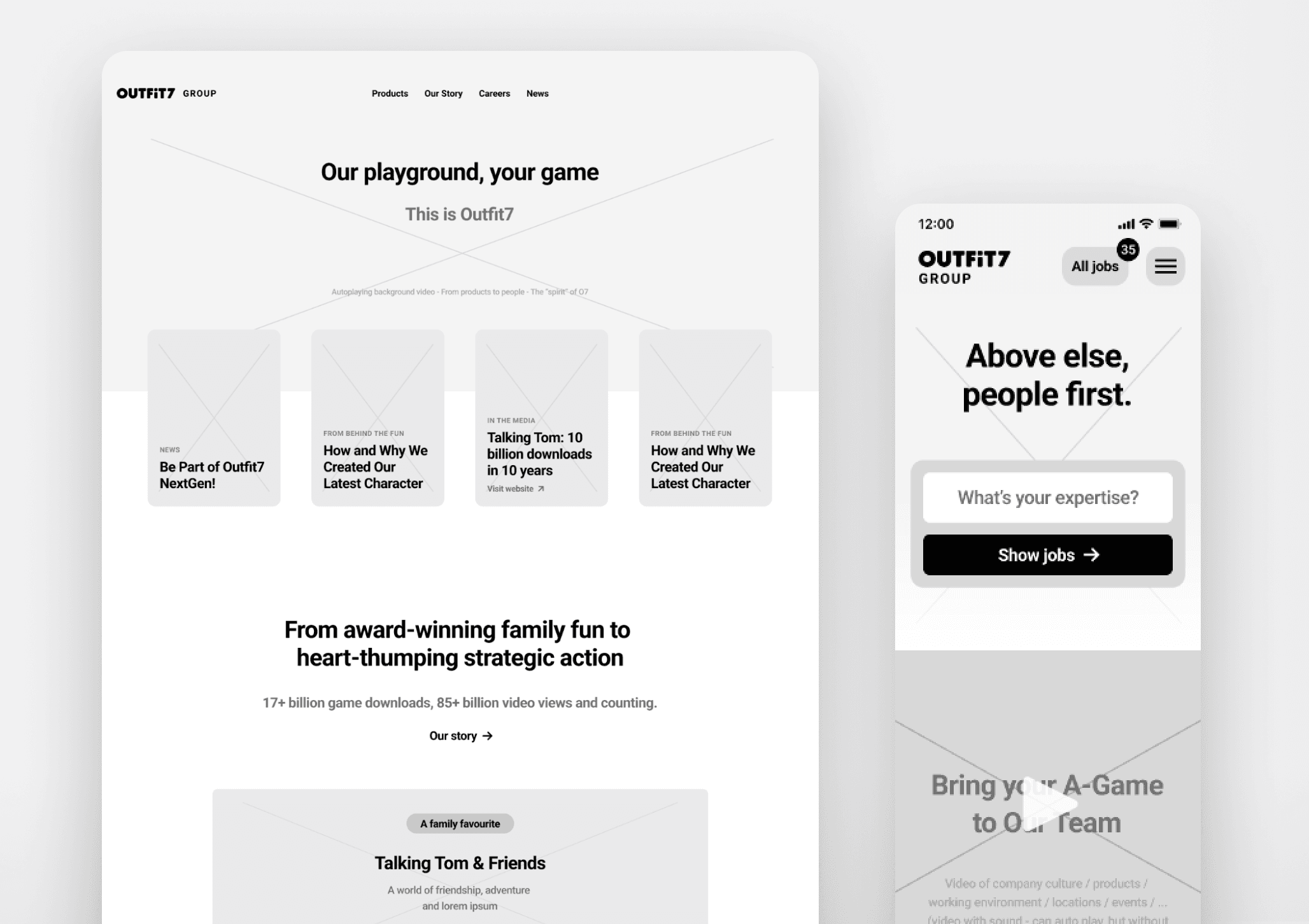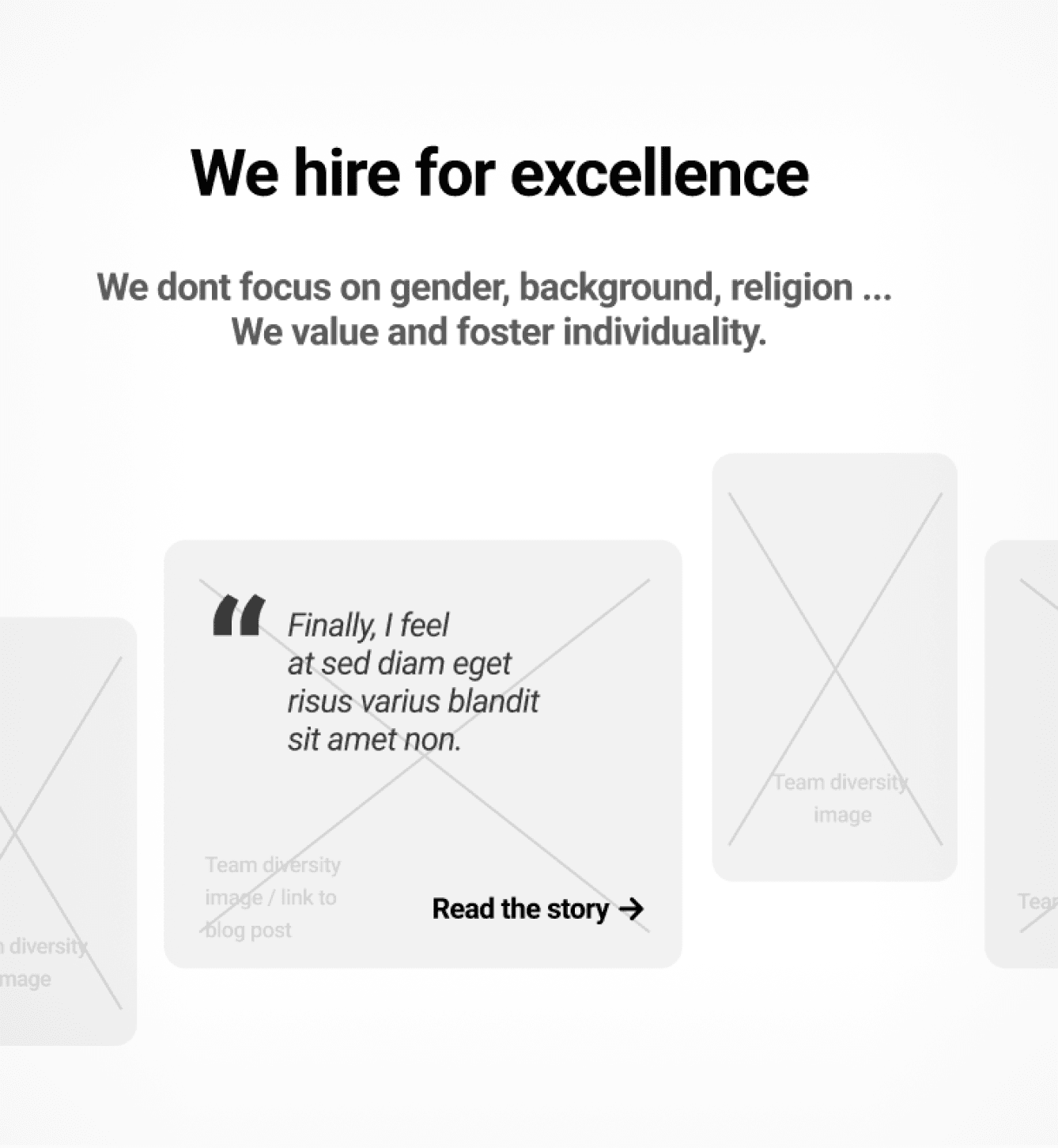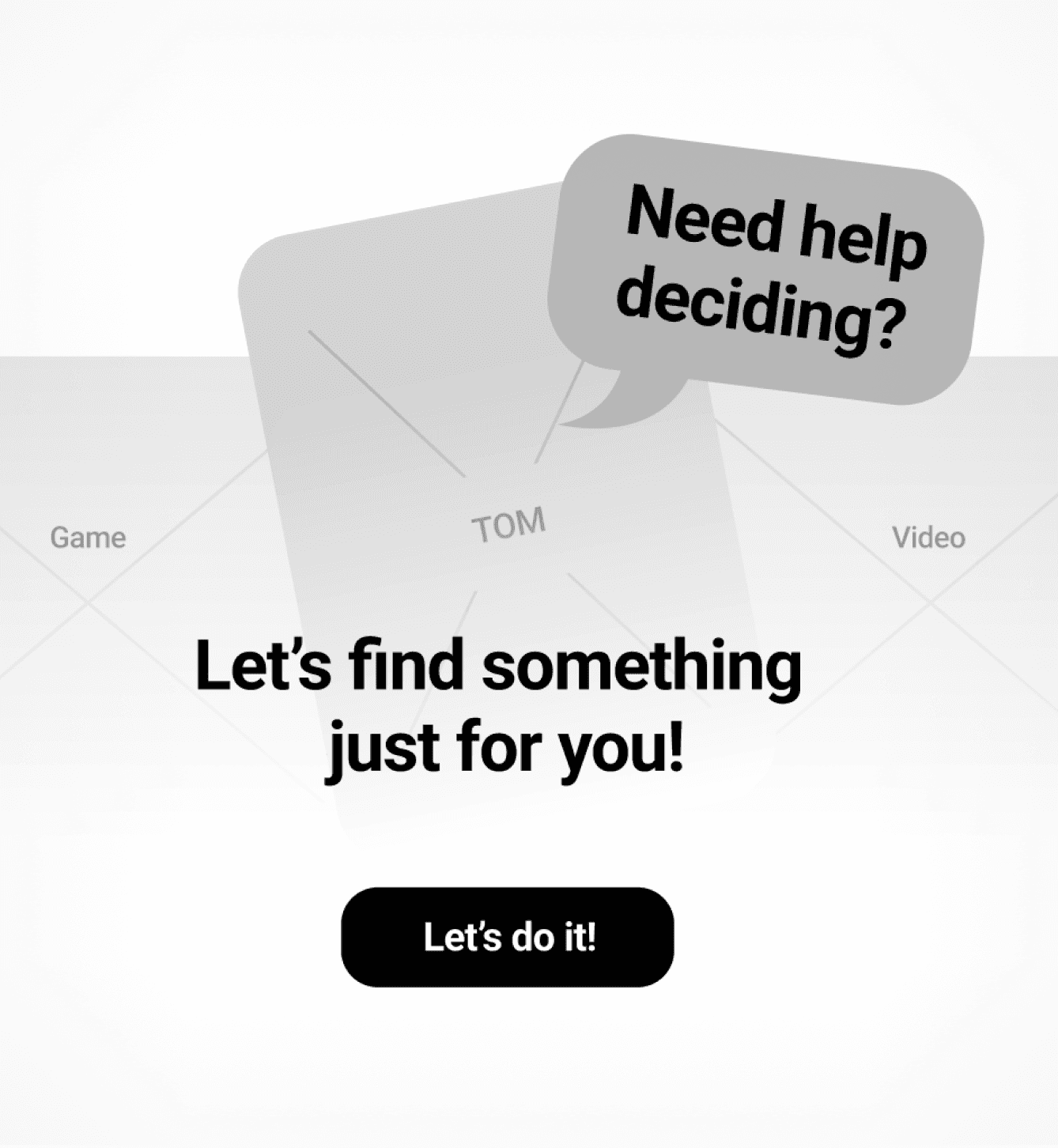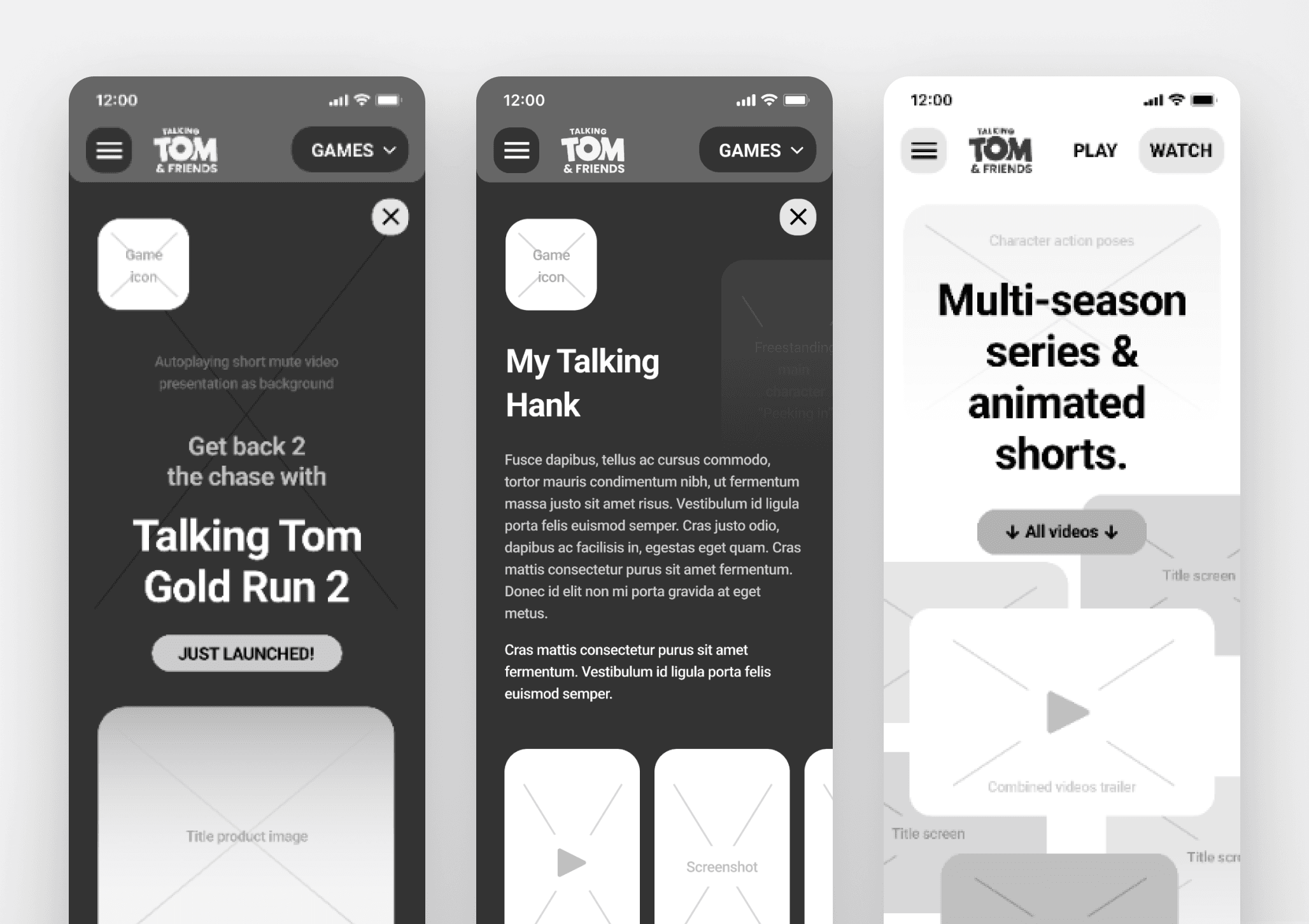 During the UI Design phase, our mission was to strike a harmonious balance between the sophisticated Outfit7 corporate aura and the vibrant, playful nature of the Talking Tom and Friends franchise. This balancing act was a creative endeavor that required a thoughtful approach to unite these contrasting worlds.
We swiftly converged on design concepts for both websites, working in lockstep with Outfit7's internal design squad and other key stakeholders. The ideas put forth by our team were accentuated by Outfit7's proprietary videos and 3D elements, lending a unique flair to the visual narrative.
The Outfit7 website demanded a design that married its sleek, dark branding with bursts of color from game visuals. Our minimalist tactic, featuring clean lines and a black-and-white color scheme, served as a canvas for the brand's dynamic elements—corporate photography, game imagery, and luminous neon accents. This tailored design system was versatile, deftly highlighting various facets such as talent acquisition, company ethos, personal stories, social initiatives, product showcases, and latest updates.
On the flip side, the Talking Tom and Friends website needed to captivate a youthful audience while remaining functional for parents. The key was infusing the site with fun without overwhelming its utility. We achieved this through strategic use of color blocks, bold typography, animated elements, and micro-interactions, ensuring the site was engaging yet user-friendly.
Both websites were meticulously designed with accessibility as a cornerstone, ensuring that elements such as color contrast and typography size met the highest standards, making the websites not just aesthetically pleasing but also universally usable.
Services performed
Design system development
High-fidelity design development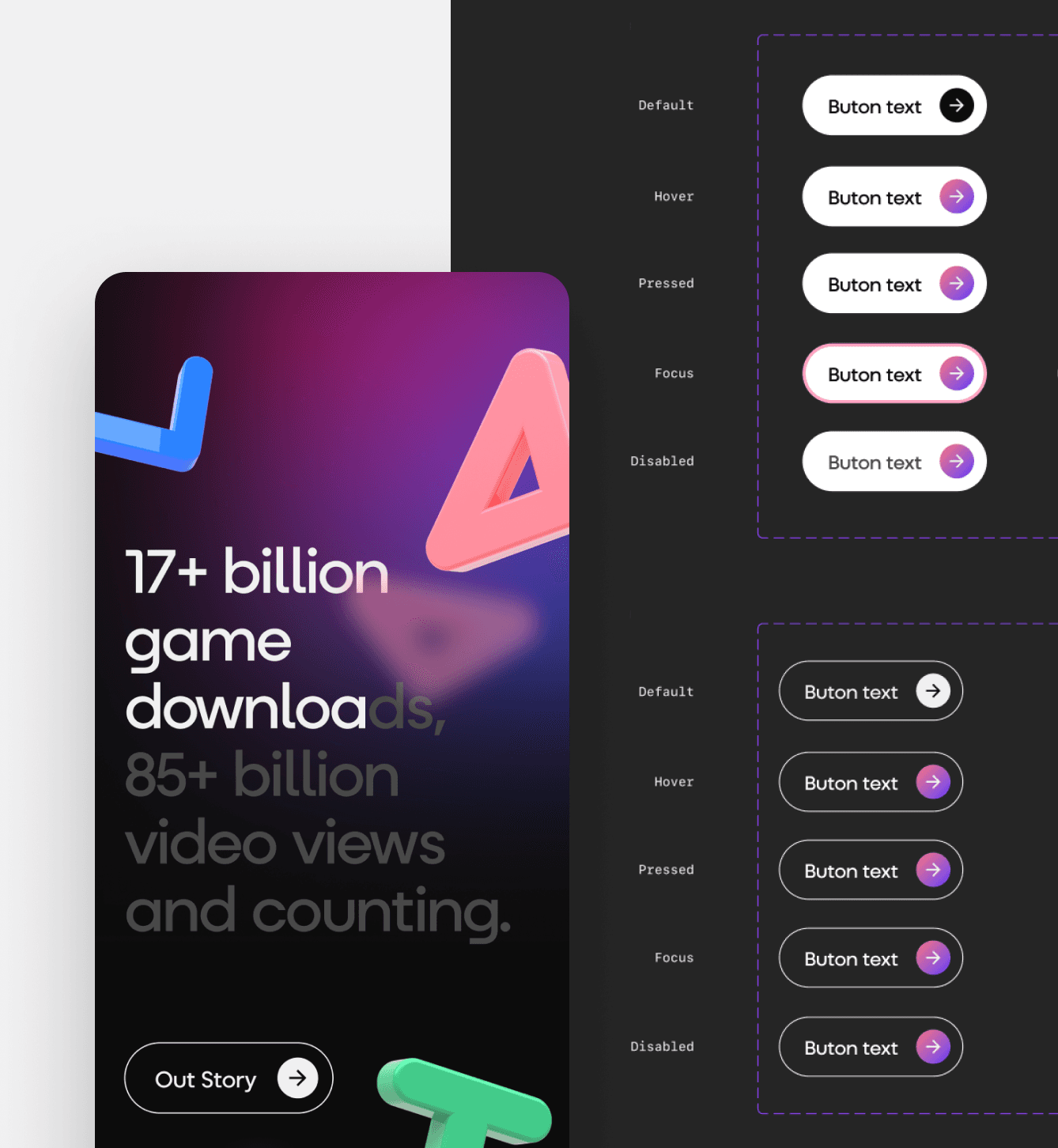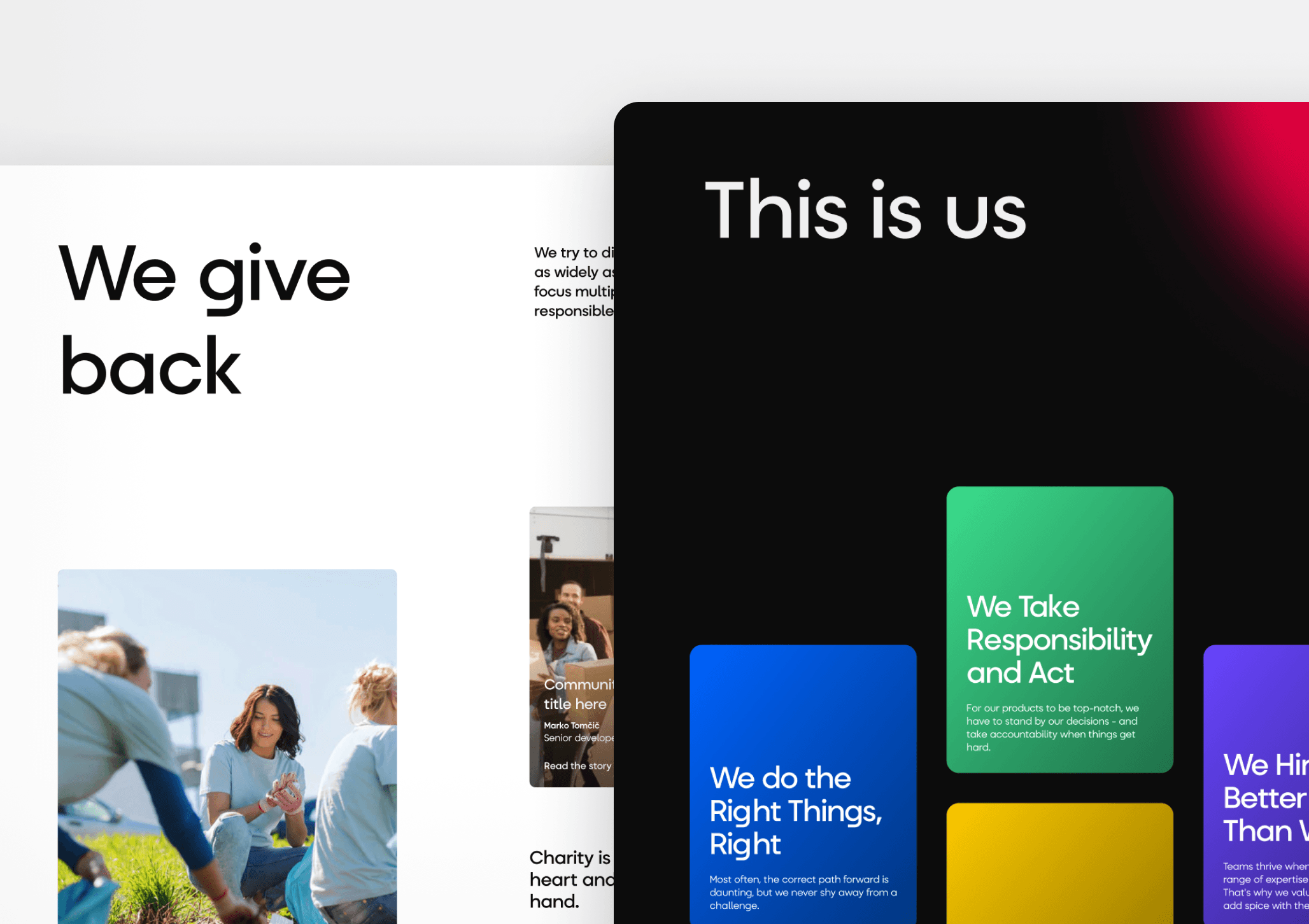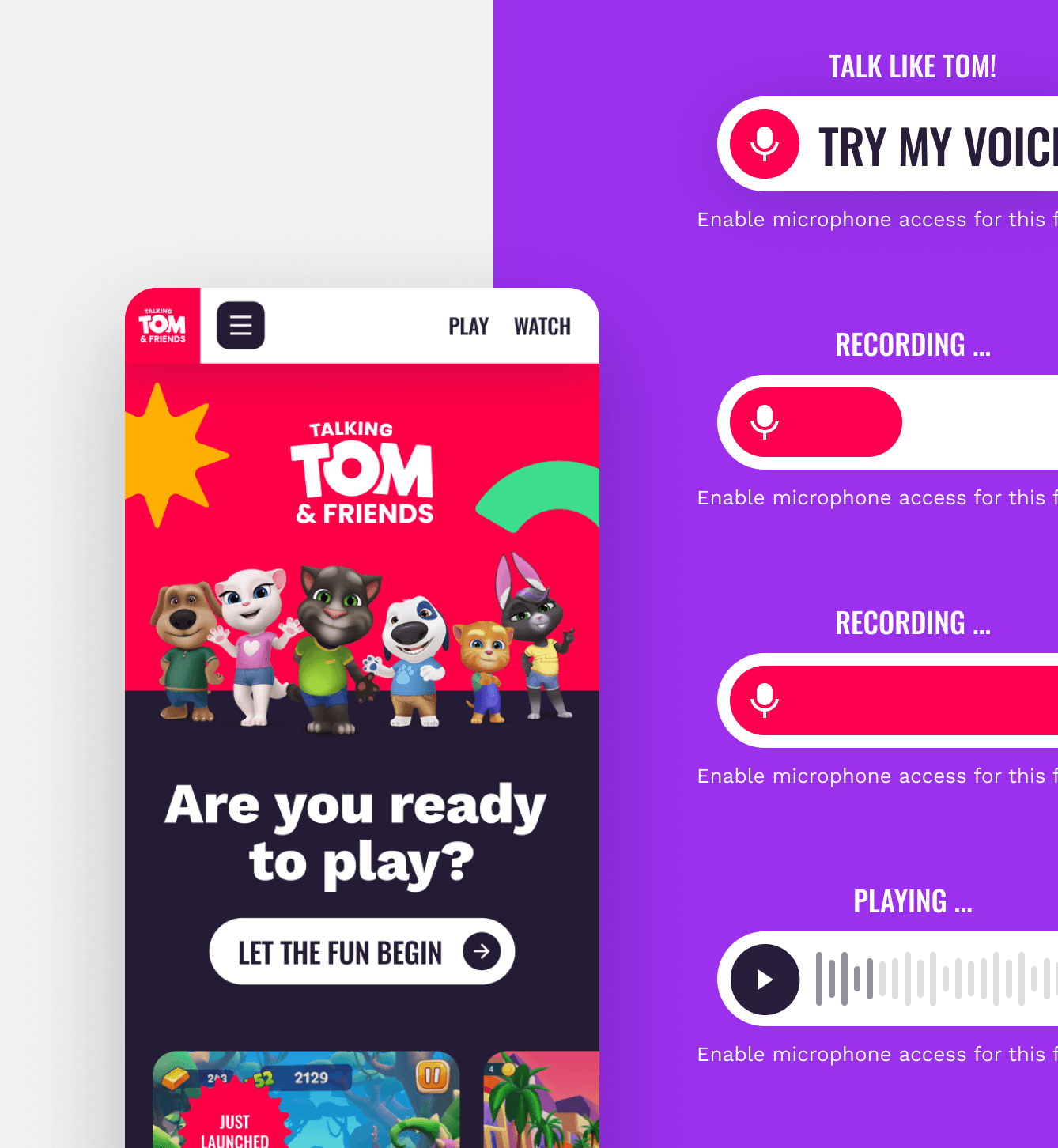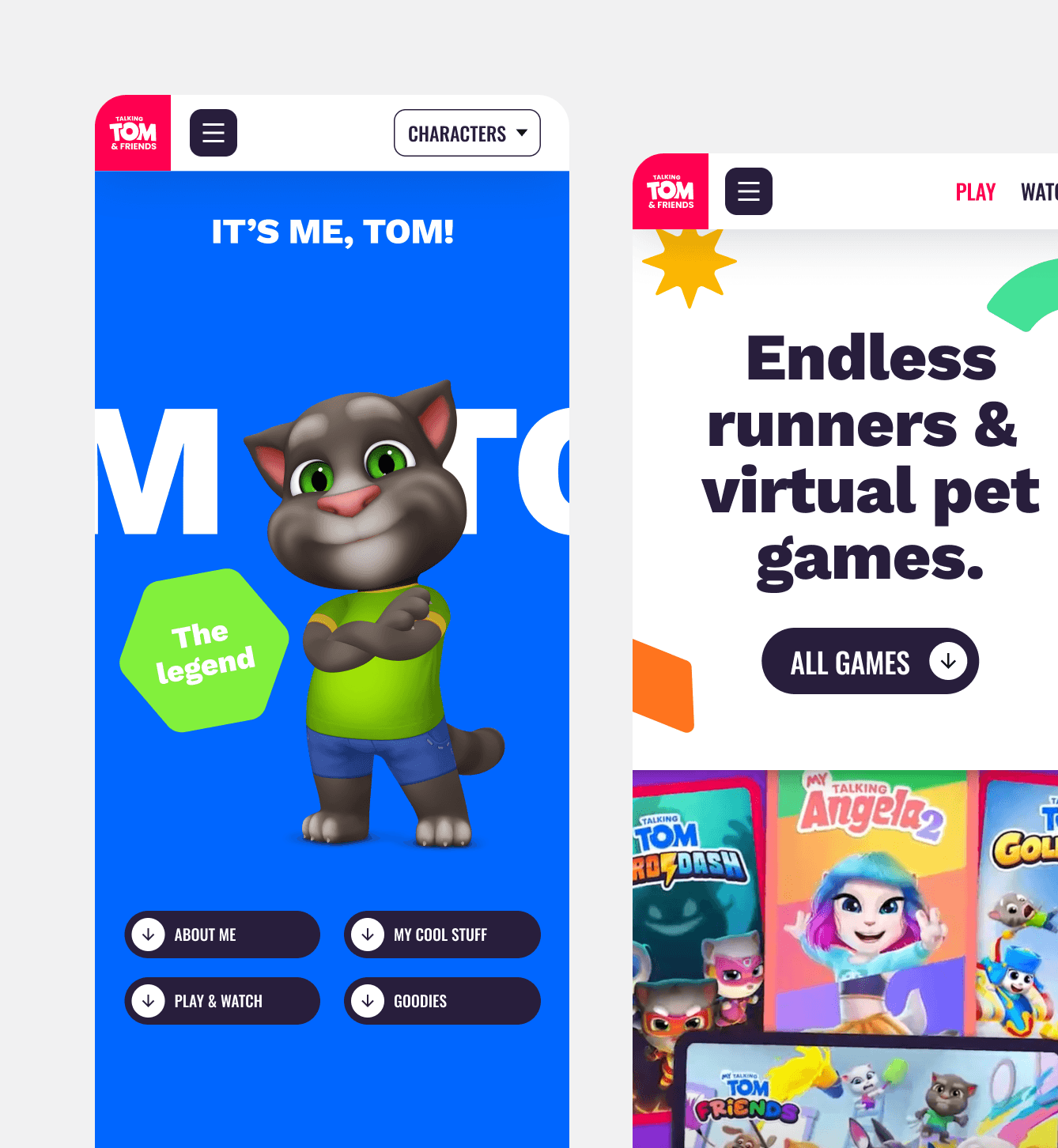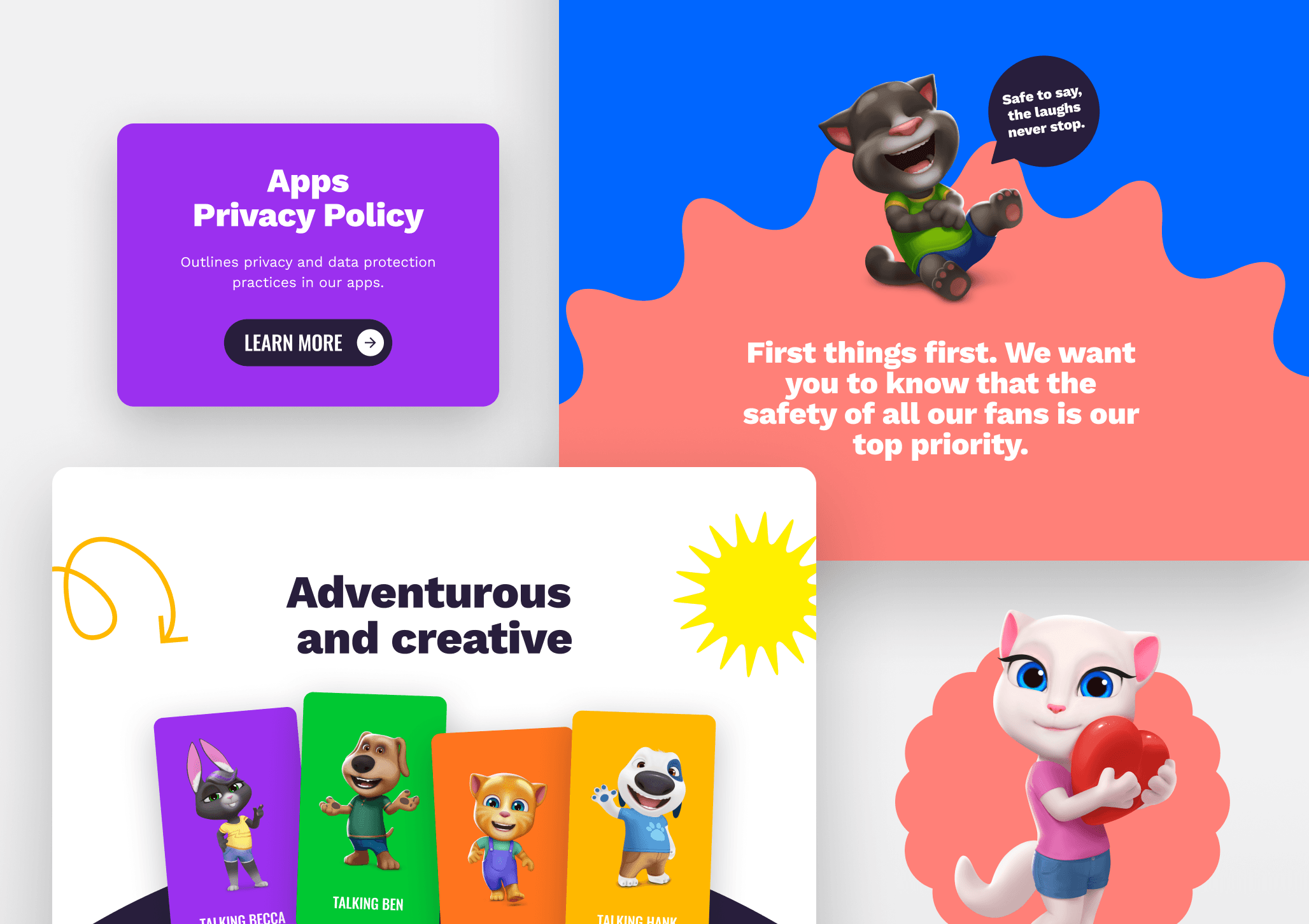 During the Development phase, we undertook a parallel approach. The engineering team embarked on the groundwork while the UI designs were still in refinement, focusing on crafting the essential functions of the Outfit7 and Talking Tom websites. This concurrent method of operation enabled us to streamline our workflow and expedite the development process.
For the front-end construction, we chose Vue.js 3, renowned for its performance and flexibility, to ensure that the websites were built on a cutting-edge and resilient framework. This decision was instrumental in creating an online platform that is not only secure and adaptable but also prepared for future technological advancements.
Our backend choice was Statamic, a flat-file CMS that provided us with a robust toolkit for content management without the complexity of a database. This approach lent us the agility and simplicity we needed for content operations, perfectly aligning with Outfit7's dynamic content requirements. To augment the management efficiency of the websites, we developed a bespoke page builder. This tool allowed editors to effortlessly compose pages using a suite of components, such as forms, galleries, and sliders, enhancing their ability to tailor content with precision and ease.
In an effort to streamline Outfit7's internal processes, we seamlessly integrated Greenhouse for job postings and Zendesk for customer support. These integrations facilitated an uninterrupted flow of recruitment and customer service activities, bolstering the overall operational efficiency.
Additionally, we fortified the websites with a suite of advanced features to enrich user interaction and ensure content appropriateness. The implementation of age-gating mechanisms, a voice interaction feature that brings Talking Tom characters to life, automated Open Graph image generation, and more, all work in concert to provide a user experience that is engaging, secure, and compliant with international standards. These enhancements not only elevate the user journey but also underscore Outfit7's commitment to providing a safe and interactive online environment.
Services performed
External services integration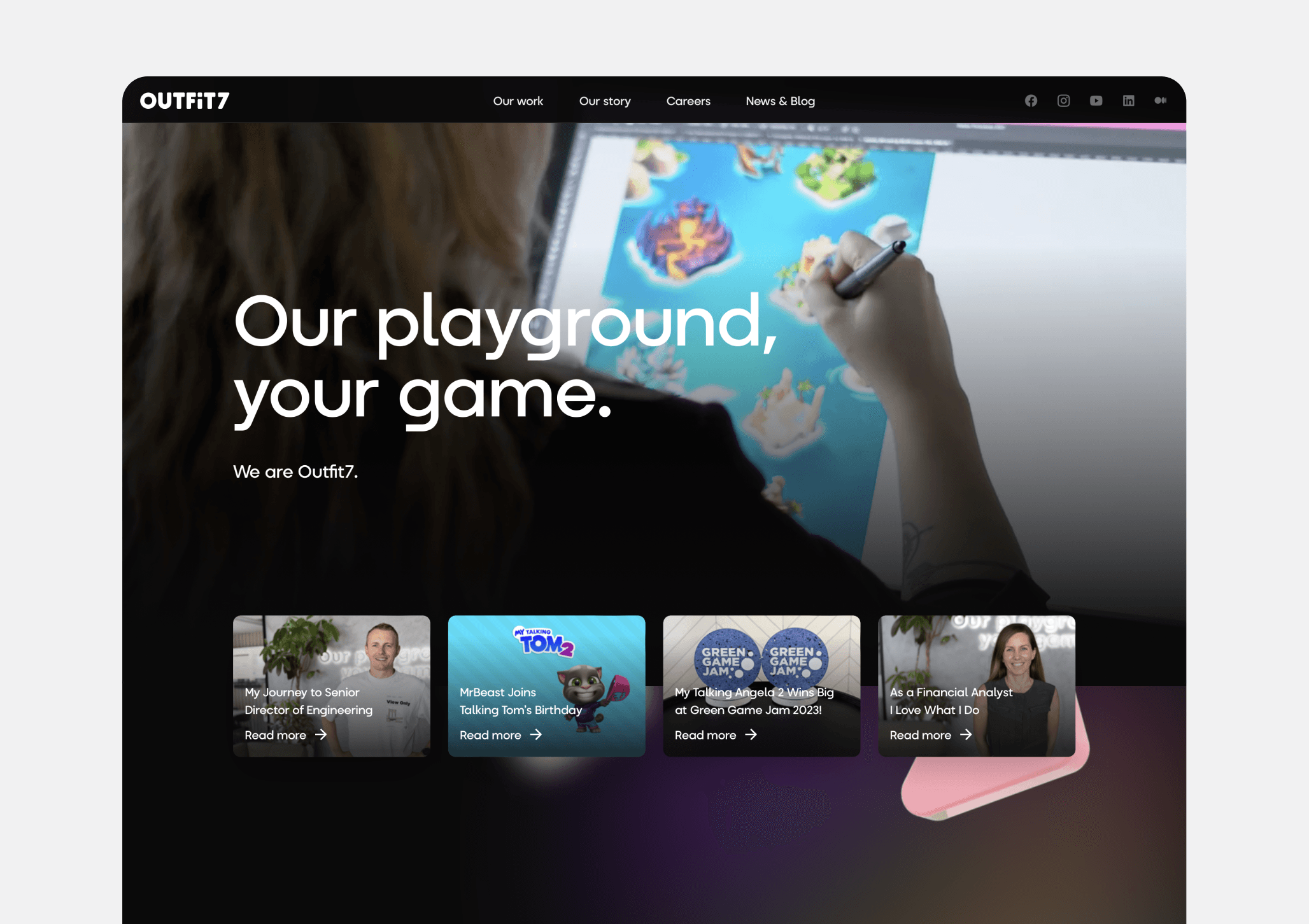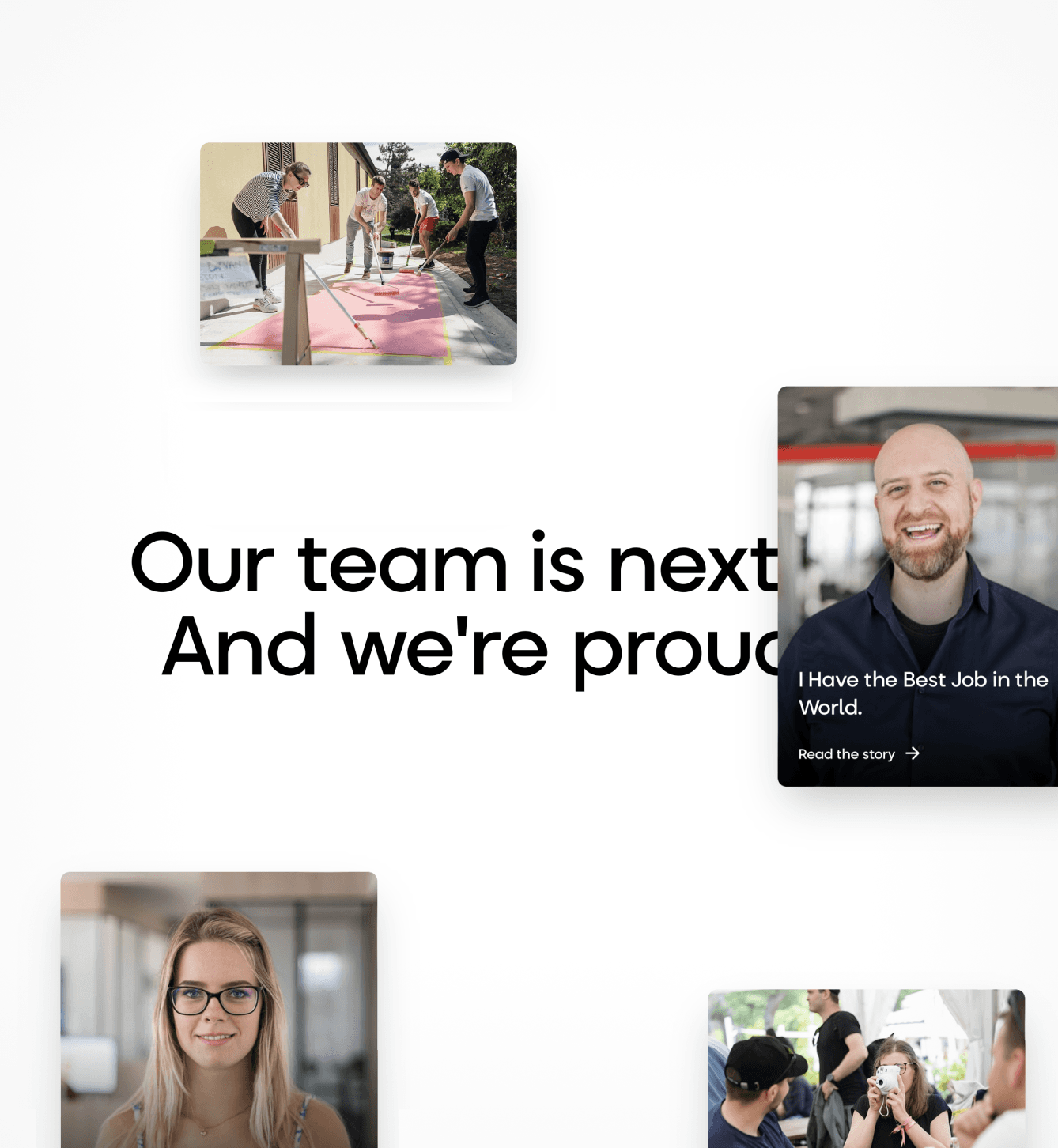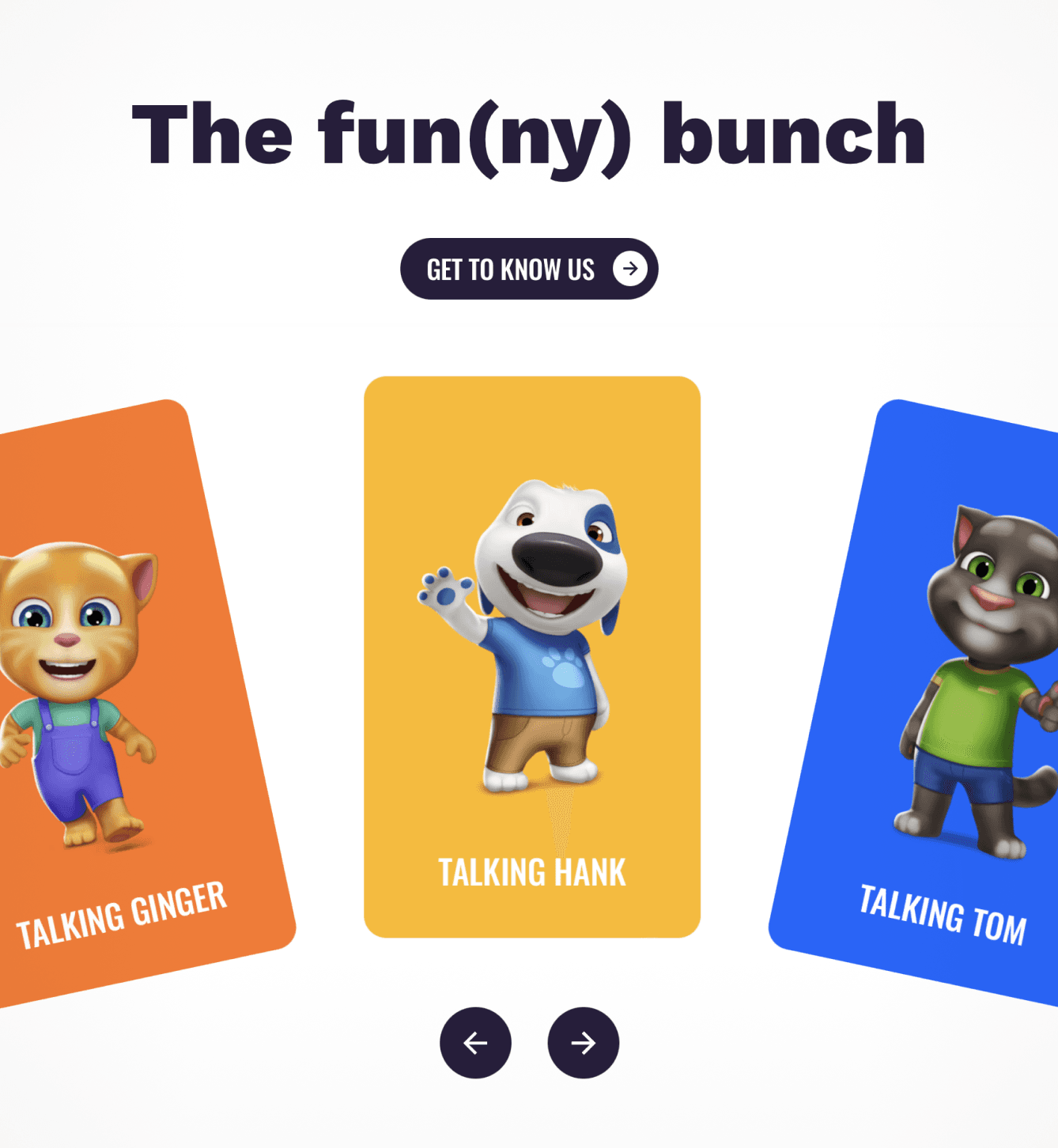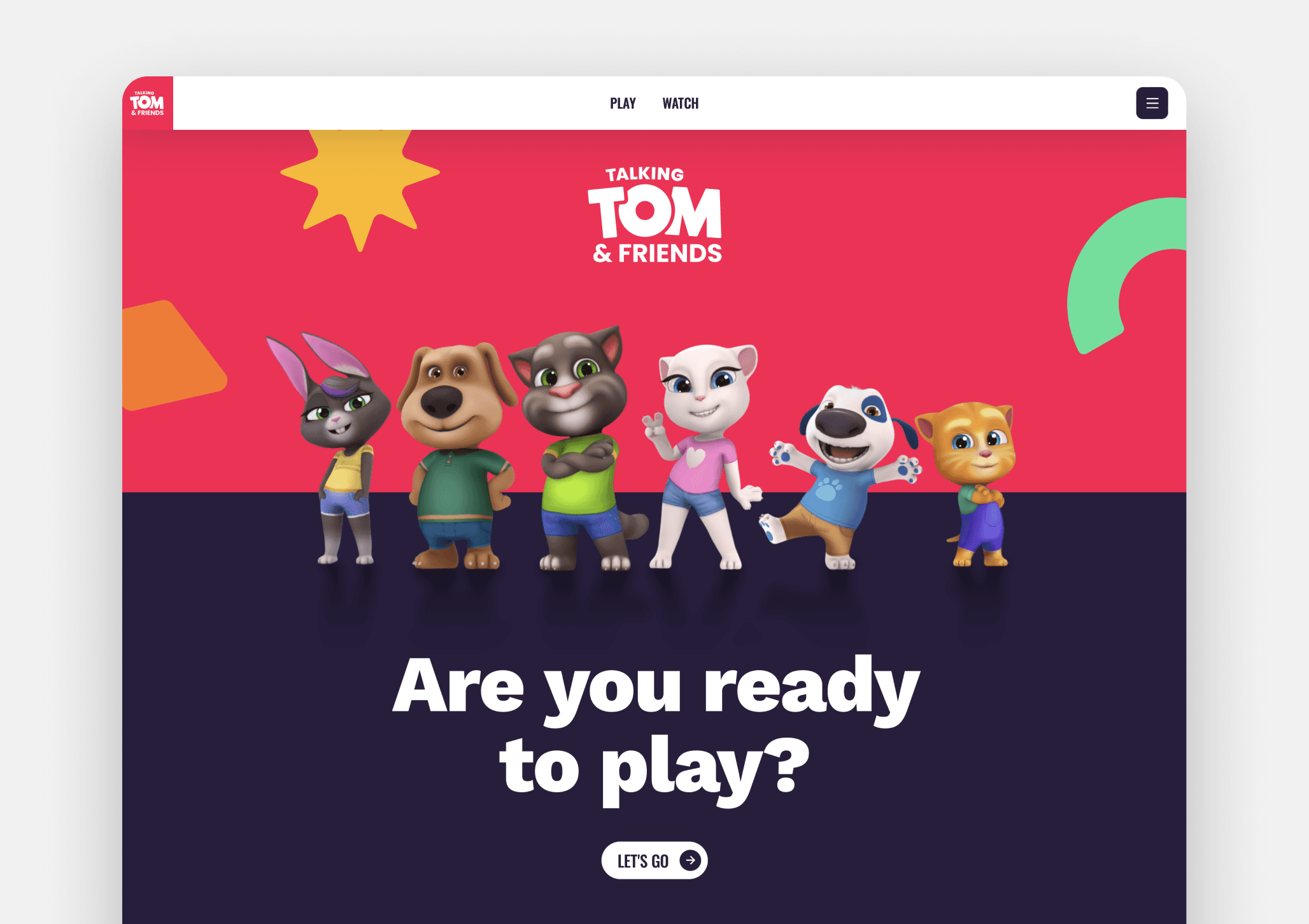 More than a year after we kicked off, both websites went live.
Let's schedule a call
Join us on a 30 minute, no strings attached call. Just pick a time that works for you and that's it.